For the next few weeks, this blog will gain exclusive access to the lab sessions for a new course taught by Professor Astrid Lindenlauf and conservator Marianne Weldon up in special collections called: Introduction into Principles of Preservation and Conservation for Archaeologists (ARCH B137).
The first lab focused on creating mounts for objects when in storage.
While one mostly thinks about objects on display in exhibitions behind glass on black velvet with dramatic lighting, it is easy to forget that they spend a large amount of time in storage or in transport to and from exhibitions and study spaces. When in storage or transport, many objects need additional padding, support, or cradling to protect them from rolling around, bumping into one another, being crushed, squished, or other possible damages.
Storage mounts are created specifically to protect these objects and thus are an important part of storing an object safely for future use and study.
Choosing the materials from which to make a mount is the first step. One wants to ensure that the mount will not inadvertently damage the object through contact with reactive materials.
Marianne Weldon presented several tables of mount-making materials and tools: foams, tissue papers, boxes, silica gel, cloth-ribbon, glue-guns, paper labels, pillows, etc. She emphasized the archival properties of the materials (e.g. acid-free) and the new trend toward biodegradable materials.
She also demonstrated the Beilstein test in which one can test plastics for the presence of chloride by burning the plastic. If the flame burns green, the plastic is not safe for use.
There are a couple of different ways in which mounts can be made, but just like how every object is unique, every mount is unique to the object.  Marianne pointed out that what is most important is that the object can sit safely and can be removed from the mount easily and safely.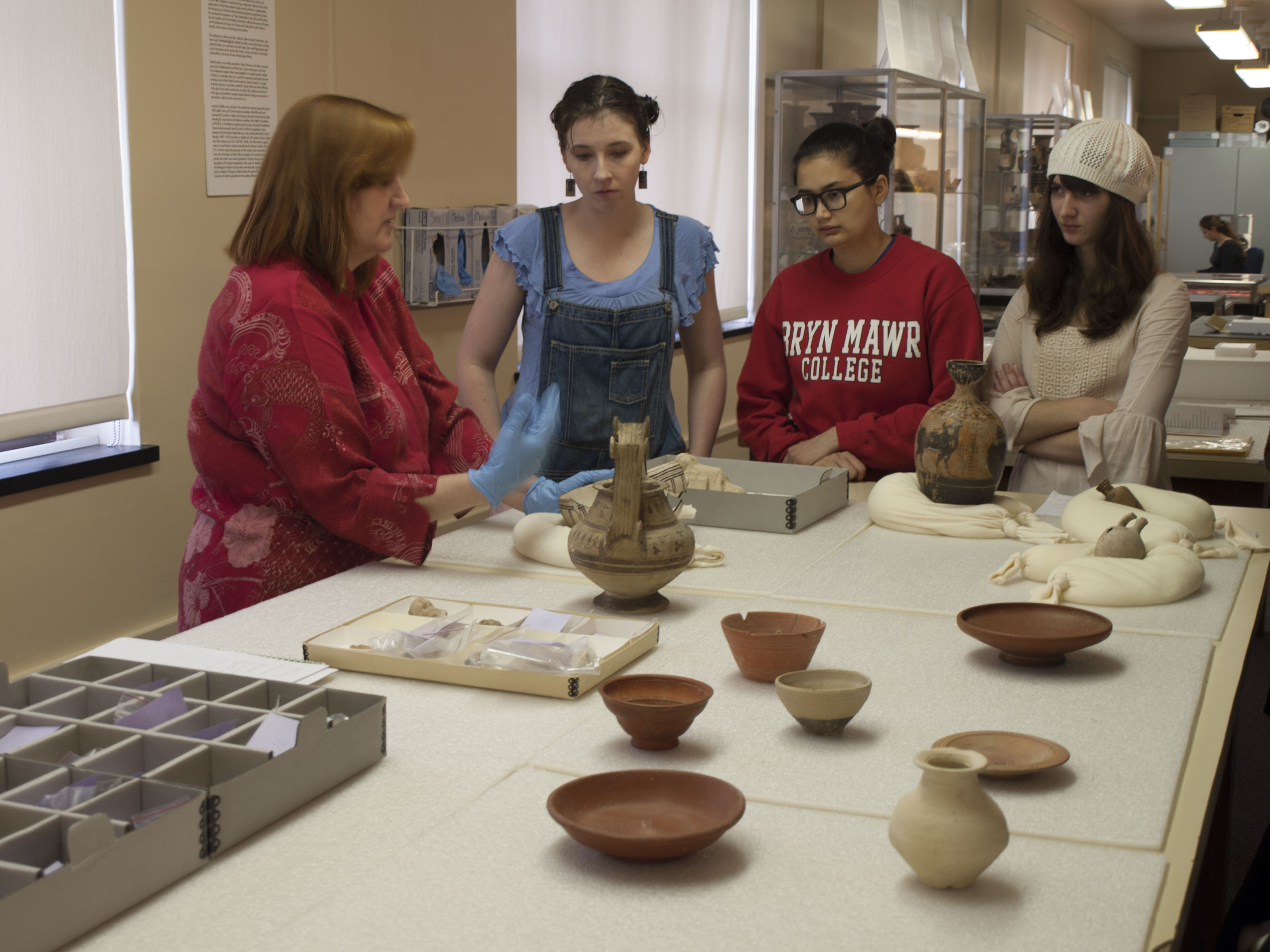 Students chose from a selection of objects that needed storage mounts for their lab project. Ceramic vessels and terracotta figurines were up for grabs. Over the course of the next several weeks, students will come in and create a mount for their object.