While I was rummaging through boxes of negatives produced long ago by Bryn Mawr's Slide Library/Visual Resources photographers, I made a surprising discovery. Amidst hundreds of copystand images of architectural plans, sculptures, and paintings (all in 4 x 5 inch glassine protective envelopes), there was a lone interloper.
It was small, folded and faded, an Alumnae Association letter envelope, with what looked like airplane flight times scribbled on its exterior. Within the envelope was a solitary Kodak Safety film negative(6 x 6 cm , a 120 Medium format negative) pale in the office light. By squinting, I could make out trees forming a background for an open space in which a primly dressed middle-aged gentleman sat on a stone wall.  But what were those figures beside him? I blinked and then gasped as I realized I was staring at the old Deanery garden's well-head with bronze putti figures in situ. For years, I had been interested in the history of the Deanery, one of the college's oldest buildings (now, no longer extant), its contents, and its garden. And here, before me, was an image of someone enjoying the peace and quiet of that green space so beloved by Bryn Mawr College's second president, M. Carey Thomas.
As a background note — During one of her European travels, Miss Thomas commissioned the Chiarazzi Foundry in Naples to produce 12 decorative bronze "cupids" for her newly established garden planned by John Olmsted and Lockwood de Forest, following the Deanery's recent architectural expansion.  The Chiarazzi's specialized in replicating ancient Greek and Roman art works. These bronze putti , some holding birds, others with dolphins, replicated figures from Herculaneum's Villa dei Papiri. From perhaps 1910 until the mid 1960's, these four (24 inch high) figures decorated the garden's  well-head  not too far from eight other smaller (18 inch high) fountain figures surrounding the garden's pool.
The Deanery, formerly the residence of Dean, then President, M. Carey Thomas, was later used by the Bryn Mawr College Alumnae Association from 1933 until 1968 when the structure, deemed unsafe, was demolished to make way for the construction of Canaday Library. The Deanery garden area which remains, was renamed the Blanca Noel Taft Memorial Garden in 1974.
But back to the image in my hand.  I wondered who was that solitary man sitting in the garden? And why was the photograph taken? The first question was easily answered since the envelope's front had the penciled notation "Dr. Cadbury."   The English Quaker Cadbury's were the ones who made  chocolate, I remembered, while the American branch was a well known Quaker family in the Philadelphia area. Dr. Cadbury 's grandfather, Joel Cadbury, had  immigrated from England to Philadelphia back in 1815.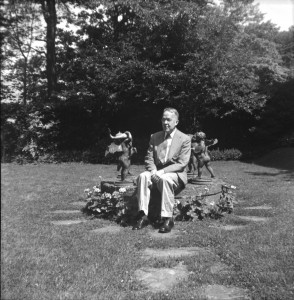 Henry Joel Cadbury (1883-1974), a graduate of Haverford College (1903) and Harvard (Ph.D. 1913 or 1914), taught the classics and Biblical studies at Haverford, Bryn Mawr, and Harvard's Divinity School for many years before becoming a member of Bryn Mawr College's Board of Directors in 1948 and its Chairman in March 1956. Perhaps this photograph was taken that year to commemorate that event.
Dr. Cadbury, a modest man, slight in build, was passionately committed to teaching and scholarship along with Quaker pacifism and service.  In addition to his academic duties, he was a well-travelled lecturer and author of over 29 books & pamphlets, with more than 100 periodical contributions.  His final 3 books were published all in the same year, 1972, when he was 88 years old. He was one of the founders, in 1917, of the new emergency Quaker organization, the American Friends Service Committee, and in 1947 Dr. Cadbury went to Oslo to receive the Nobel Peace prize on behalf of Quakers worldwide.
I find it amazing that the photographer, whoever it was, caught Henry Cadbury in a quietly composed moment, now frozen in time. The man looks bemused. Perhaps there is a twinkle in his eye, as he enjoys the juxtaposition of staid College trustee, Quaker historian, and Biblical scholar with cavorting naked cupids.  I later found that there is a small photograph printed from this negative in the Bryn Mawr College Archives, but it is not dated. There is writing on the photograph's back that indicates that it was to be cropped – but in what publication was it printed?  Perhaps we will never know.
As for the Transamerican Airline flight times scribbled on the envelope – they do not help date the image. That airline operated only after Henry J. Cadbury's death, in 1974.
Most of the biographical material above was culled from Margaret Hope Bacon's 1987 biography of Dr. Cadbury, "Let this Life Speak."  But if you want to hear Henry Joel Cadbury speak for himself and in his own voice, his digitized lectures on Quaker thought, on Haverford and Bryn Mawr College are available through :
http://triceratops.brynmawr.edu/dspace/search  then search for "Cadbury"
This includes his last lecture, words spoken at the rededication of the 12th Street Meetinghouse, September 29, 1974, only 8 days before his death on October 7th.
http://triceratops.brynmawr.edu/dspace/bitstream/handle/10066/4562/Track02.mp3?sequence=3
He was truly a gentleman and a scholar.
This image was scanned from the negative for College Archives photograph PA_Cadbury_Henry_005.
Written by Nancy J. Halli 4/2015
BMC Visual Resources, Image Cataloger