Among the numerous holdings of the College's Special Collections is an impressive and historically important assortment of furniture and decorative fixtures designed by the artist Lockwood de Forest. The value of De Forest's pieces lies not only in their intrinsic beauty and status as fine examples of the East Indian Craft Revival but also in their inextricable link to the history of the College. More than a century has passed since these objects were first incorporated into the fabric of the Bryn Mawr campus and for much of that time many have been used and reused in the capacity for which they were originally intended, namely as furnishings for various public spaces. As a result of their prolonged service to the community and the frequent shifting of their locations on campus, records for many of the De Forest pieces remain incomplete. In an effort to remedy this situation, Special Collections staff and student workers have embarked upon a project to inventory and catalog the College's holdings of Lockwood de Forest furniture and decorative objects.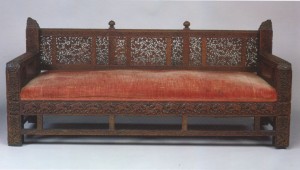 Lockwood de Forest Carved Teak Sofa
Born in New York in 1850, De Forest had begun his career as a painter, enjoying some moderate success in academic circles. For his livelihood, however, he relied upon his talents as a decorative artist and dealer in exotic goods. Inspired by the architecture and ornament of Egypt, the Middle East and India, many of De Forest's interior designs included elaborately carved or painted furniture as well as walls and ceilings embellished with stenciled patterns or pierced brass appliqués.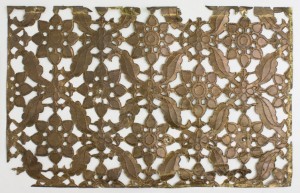 Lockwood de Forest Pierced Brass Appliqué
De Forest's relationship with Bryn Mawr College spanned the course of several decades, from the mid-1890s to the mid-1910s. In 1894, M. Carey Thomas, who had served as Dean of the College since 1885, became its second president and her residence, known as the Deanery, underwent significant renovation. The original five-room wooden farmhouse, located on the site now occupied by Canaday Library, was expanded and remodeled in order to meet the growing needs of the new president. Thomas called upon De Forest to decorate the interior spaces of the newly enlarged Deanery.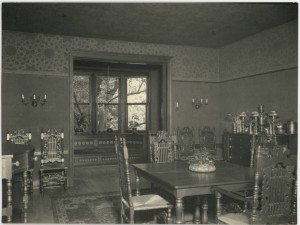 Deanery Dining Room, 1896
It is likely that she commissioned him to decorate and furnish her offices in Taylor Hall at this time as well. Ten years later, Mary Elizabeth Garrett, a Baltimore railroad heiress and long-time friend of Thomas, came to live at the Deanery, bringing with her many of the furnishings from her Baltimore residence. Garrett too had been a patron of De Forest and among the items she transferred to Bryn Mawr were a number of pieces of his East Indian furniture. The Deanery's final and most extensive renovation, which transformed it into a palatial forty-six room residence, began in 1908 with De Forest serving once again as the interior design consultant. In addition to his work in the Deanery, he also played a significant role in the design of several other campus buildings, including the entrance vestibule and Great Hall of Thomas Library. As a result of De Forest's long-term engagement at Bryn Mawr, the College became a repository for a substantial collection of his carved and stenciled furniture as well as for a number of his pierced brass appliqués.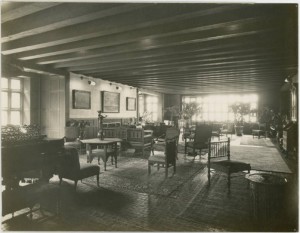 Deanery Sitting Room ca. 1908
M. Carey Thomas retired in 1922 at the age of sixty-five but lived out much of the rest of her life in the Deanery. By 1932, the building and most of its contents had been given to the Alumnae Association for use as a center and inn. Under the Alumnae's administration, various changes were made to the structure and decoration of the Deanery in order to adapt it to its new, more public role. Serious efforts were, however, made to "preserve the flavor and the atmosphere" of the Thomas era Deanery and many of the De Forest furnishings remained in situ until the Deanery was demolished in 1968.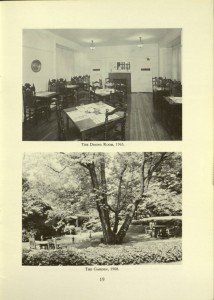 Deanery Dining Room, 1965
With the destruction of the Deanery came the dispersal of the Lockwood de Forest furniture and decorative items. Some were retained by the College and reused in the new alumnae house at Wydham or in various offices and other public spaces on campus. Several pieces, which had been displayed together in one of De Forest's original Deanery interiors, were relocated to The Haffner Language and Culture House where a scaled-down version of the De Forest sitting room was reconstructed in an attempt to preserve some sense of the Deanery's former splendor.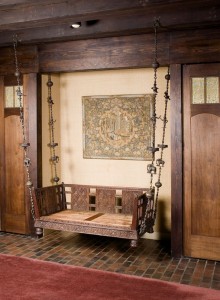 De Forest Swing in the Dorothy Vernon Room, Haffner
Two side chairs went on long-term loan to the Philadelphia Museum of Art. One of these is currently on display in the museum's American Gallery. Others of the De Forest furnishings were sold.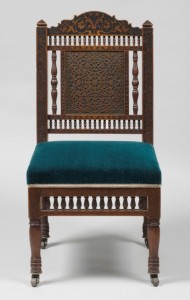 De Forest Side Chair on Loan to the PMA
Interest in the life and works of Lockwood de Forest is ongoing in both academic and museum circles, with the College's holdings of De Forest furnishings serving as an important resource for researchers and curators. Roberta Mayer's 2008 monograph on De Forest, for example, includes an extensive analysis of his relationships with Mary Garrett, M. Carey Thomas and Bryn Mawr College. Several area museums have expressed an interest in borrowing items from the College's De Forest collection for upcoming exhibitions.
As part of recent endeavors to update and refine records for Special Collections art and artifacts, a new project has been undertaken, the goal of which is to inventory, photograph and catalog all of the Lockwood de Forest pieces remaining on campus. In addition, the conservation needs of individual objects are being assessed and several minor restorations have already been accomplished. It is hoped that the information gained through these efforts will make the De Forest furnishings more accessible to members of the Bryn Mawr College community and to outside scholars alike.
Joelle Collins
Ph.D. Candidate
Department of Classical & Near Eastern Archaeology
A link to the History of the Deanery online: http://repository.brynmawr.edu/bmc_books/7/