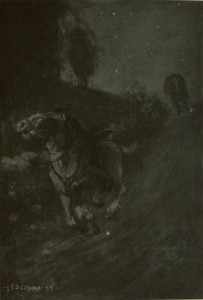 Hang on to your hat—and your head—for the next preview of the upcoming Halloween-themed "Friday Finds" talk!
Washington Irving's The Legend of Sleepy Hollow has it all: romance, the supernatural, and a healthy dose of biting satire, all this from one of the pillars of the first generation of great American authors. Irving, who spent many years abroad in Europe, was deeply affected by stories and traditions of the old world. However, he brought a distinctly American flair to these stories, both in setting and wry, satirical tone.
Nowhere is this more evident than in the Legend of Sleepy Hollow, where traditional European tales of headless riders and huntsmen are reinterpreted in the Hudson Valley, where the exoticism of the New York Dutch heritage met the eerie upstate wilderness of America. While the monstrous encounter between Ichabod Crane and the phantom horseman is ambivalent, what is certain is the enduring humor in the description of the calculating and manipulative, yet irrationally superstitious, schoolteacher who likely deserves his comeuppance.
Bryn Mawr's illustrated copy of Washington Irving's best-known and most-adapted work will be available for your perusal at "Eerie Books: A Halloween Selection from Special Collections," on Friday, October 31st, from 3:00-4:00 pm in Room 205 of Canaday Library. Come and page through it and other spooky selections yourself—if you dare!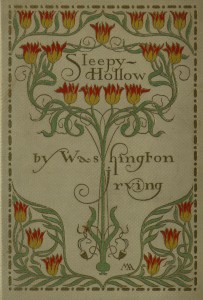 Trick or treat at Special Collections! Come to the talk in costume, and you may win a gift certificate to Main Point Books. Everyone will be welcome to treats to follow the talk!