As part of broad efforts by Special Collections to cultivate connections among individuals, disciplines, and institutions, Curator and Academic Liaison for Art and Artifacts Brian Wallace recently traveled to Minneapolis, Minnesota, to present a paper at the Association for Academic Museums and Galleries 2012 conference: http://www.aamg-us.org/conference12.php. In "Town/Gown Connect: Leveraging Community Assets Across the Campus," Wallace and co-presenter Shari Osborn (Community Activist and Museum Educator at the Locust Grove/Samuel Morse Museum and Mansion in Poughkeepsie, NY) discussed ways campus arts programs can connect campus and community audiences, artists, and other stakeholders.
One of the two case studies Wallace and Osborn used in their presentation, Carrying, a 2010 project by artist collaborators Belshe/Prown (http://www.belsheprown.com/), addresses a topic of great interest to campuses and their surrounding communities – the difficult and all-too-often newsworthy topic of gun violence on campuses. Carrying consists of 50 signs – each bearing the rules governing the carrying of concealed weapons on campuses in each of the fifty states – designed to be temporarily installed across a collaborating campus and an adjoining town, village, or other municipal entity. As presented in New Paltz, New York – by the Village and Town of New Paltz and by the Dorsky Museum at the State University of New York at New Paltz – Carrying served to bring individuals and entities together, to highlight cooperation on a potentially contentious issue, and to galvanize broader public – and campus – awareness of the often-overlooked connections between town and gown.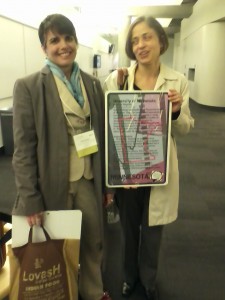 The images here include digital versions of several of the signs, as well as a photograph of co-presenter Shari Osborn and the University of Minnesota's Weisman Art Museum curator Diane Mullin with the Minnesota Carrying sign: intrigued by the project as both activism and art, Mullin requested that Wallace and Osborn deposit the sign in the Weisman's collection, which focuses on public art and the emerging field of social art practice (http://www.weisman.umn.edu/).