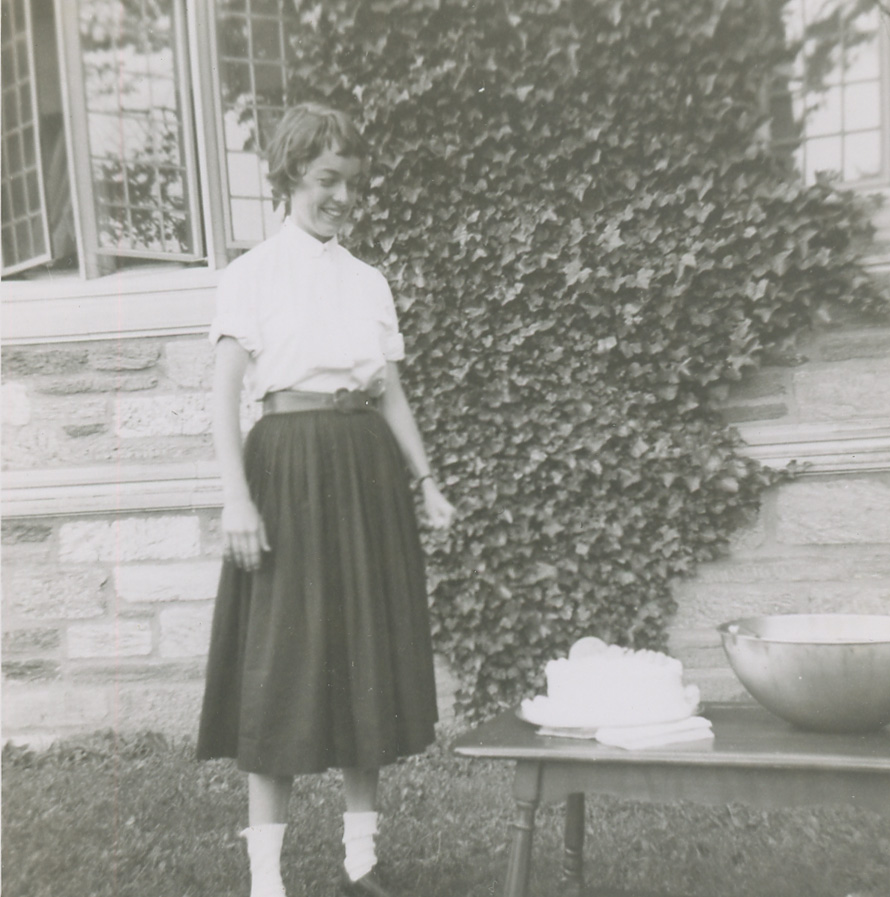 Judith Kate Haywood at a party at Bryn Mawr.
Gift of Karl Haywood Jacoby.
At the end of the summer of 1951, Judith Kate Haywood (later Jacoby) (1934-1997) was making preparations to attend Bryn Mawr College for the first time. She had just returned from a tour of Europe, a trip that was a high school graduation gift from her parents, when she received a welcome letter in the mail from a returning Bryn Mawr student. The author of the letter was a rising junior, Barbara Pennypacker (Class of 1953). The tradition of an upperclasswoman sending a letter to a freshman still exists at Bryn Mawr today, but with a couple of modifications. Freshmen today receive welcoming correspondence from sophomores designated "Customs People," and this correspondence comes by way of email rather than the post.          
A couple pieces of advice Judith received in the letter in 1951, however, may be still relevant for students today. For example, Barbara wrote, "The most important advice I have is to arrive early. The halls open at 8 in the morning and it is wise to arrive then, and I think you'll understand why." And, "Try not to make a lot of outside engagements during the first few days as things will be very confusing and you will be very busy."
But, much of her advice would not help members of the soon-to-arrive Class of 2017: they will not be expected to take a voice test, undergo a physical, or "sign a contagion card" (a card on which each student listed the contagious diseases she had had. Barbara also gave advice to Judith about what she should bring with her. She told her that trunks often got lost and that packing a suitcase with clothing was a good idea
"As for clothes—bring a suitcase with shirts, shorts, sweater, blue jeans, a dress or two and something you can wear to a combination square dance and ballroom dance….College wear is just what you've been wearing at school. Don't believe all that Junior Bazaar or the College Shop at Lord and Taylor's tells you. We are individuals trying to be comfortable and neat, and we don't spend hours at our wardrobe. Anything respectable will do nicely…If you find that you are naked or have forgotten something, there are excellent stores nearby…"
(Letter dated August 20, 1951)
Students today seldom fret about lost trunks or bringing a "combination square dance and ballroom" dress, but they can still take the advice that designer fashion and accessories are not necessary for sitting in class. More than sixty years later, it remains true that there is great shopping nearby in case someone should find herself naked!
In her first semester at college, Judith was required to pass a Self-Governance exam. Students got an up-to-date booklet of the constitution and resolutions of the Bryn Mawr Students Association. At exam time, the college provided one of those familiar (and dreaded)  blue books in which students answered, in essay form, questions about specific rules. Here are two pages from Judith's 1951-1952 Self-Government booklet.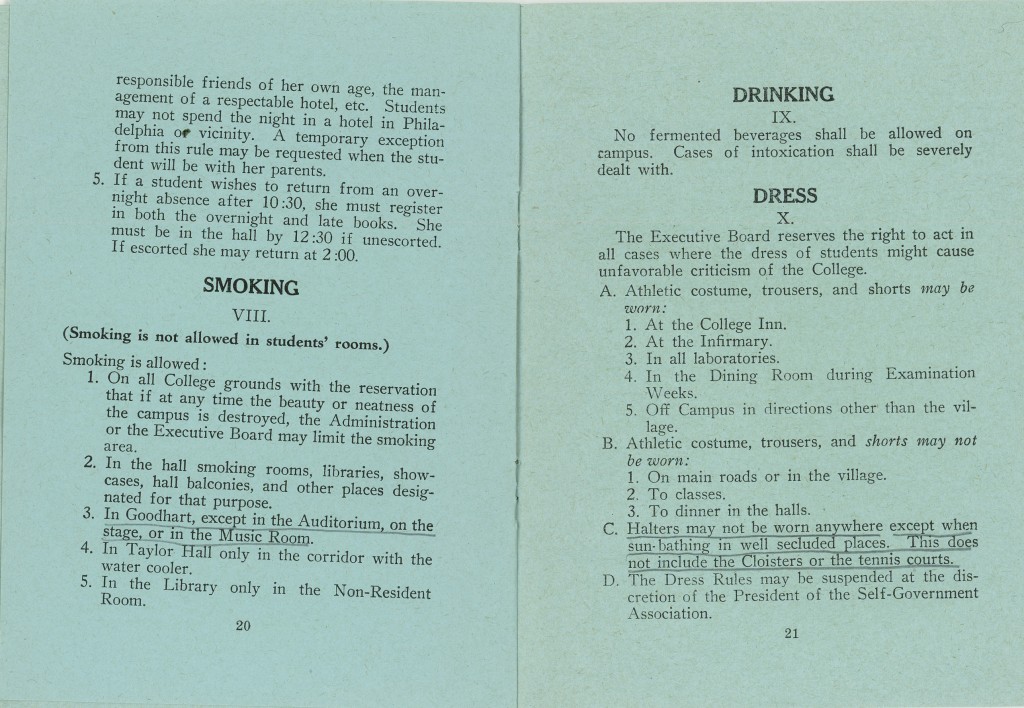 Unlike students in the Class of 1955, students in the Class of 2017 will not have to take an exam about rules. They do have rules, but infinitely less restrictive ones. Today, Bryn Mawrters can leave the college campus without getting permission from "Permission Givers," stay in hotels, wear shorts to class, wear trousers "on main roads or in the village," and sunbathe pretty much anywhere they please (like on Merion Green with speakers blaring before finals week in Spring). Smoking in Taylor Hall in the "Water-Cooler corridor" or in any other building, for that matter, is no longer allowed.
Regardless of whether it is the 1890s, the 1950s, or the late 2010s, all freshmen are bound to experience the excitement and anxieties that come with starting a new chapter of life.
Jennifer Hoit Dawson
Ph.D. Candidate in Greek, Latin & Classical Studies
The Judith Kate Haywood Jacoby papers offer unique insight into what it was like to be a student at Bryn Mawr in the 1950s. The papers date from Judith's college years and include correspondence from her parents, academic course work, notes on extracurricular activities, appointment books, a diary, some photographs, and ephemera.