We are in the process of preparing to remove the IP restrictions from TriArte which will allow people outside of the tri-college community access to our Art and Artifacts Database. As part of this process we are evaluating what information should be displayed.  Currently we display information such as: Artist, Artist Life Dates, Creation Date, Period/Era/Dynasty, Title, Geographic Region of Origin, Donor, BMC Accession Number, Classification, Keywords and Images.
Is the information we are displaying useful to you?  Below is a sample, a screen-shot of P.89 an Attic Black-Figure Neck-Amphora (Storage Vessel) as currently displayed in TriArte.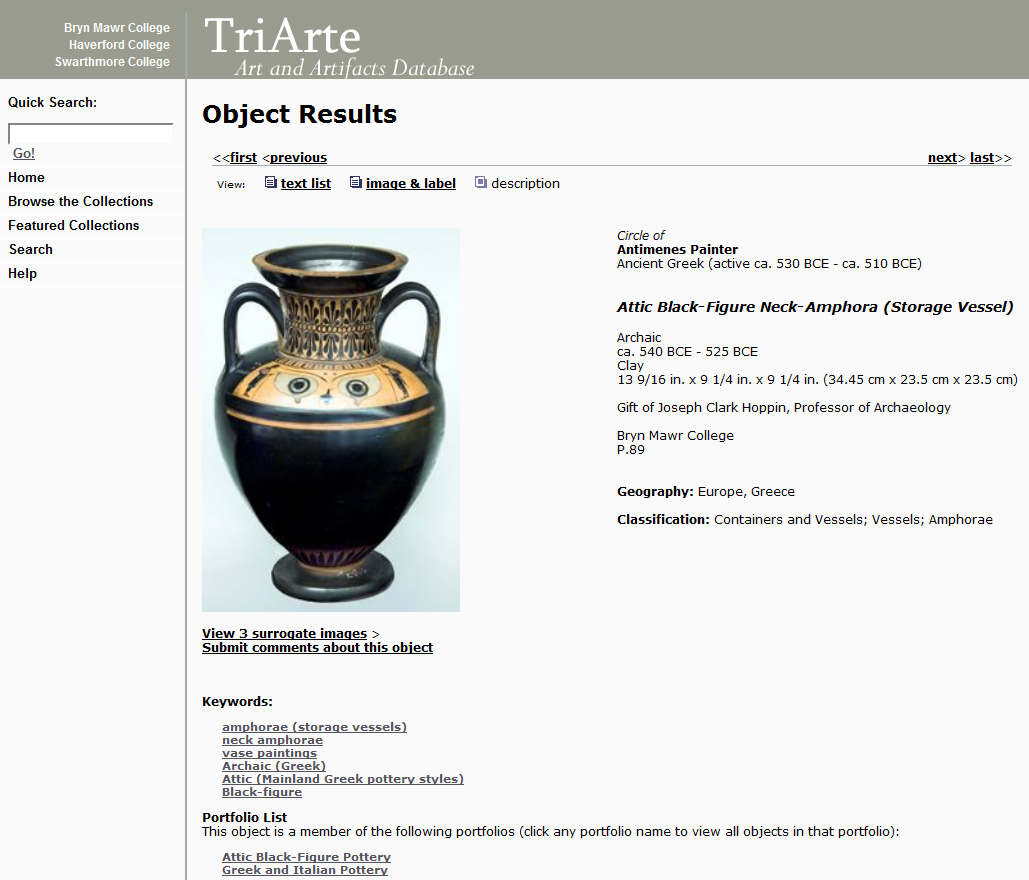 We'd like to hear from you.  What additional information would you like to see?  We have been considering adding the following information:
Publications citing the object
Exhibitions containing the object
Description of the object: for example the description for P.89 an Attic Black-Figure Neck-Amphora (Storage Vessel) could be: This amphora's shoulders are painted with a pair of eyes with eyebrows, framed by standing male figures holding spears. The decoration is completed by the painted nose and the handles, which were called "ears" in ancient Greek. The amphora is a striking example of the Greek tendency to anthropomorphize pottery; by the Late Archaic period, the eye motif was quite common on drinking cups. When the eye motif is found on amphorae, it may suggest that they, too, were used in a symposium setting. This vase belongs to a small group of amphorae with similar decoration by a painter in the circle of the Antimenes Painter, one of the major vase-painters of his time.
Location for the object if currently on public view
Related web resources such as the J. Paul Getty Museum's Video on Making Greek Vases:  http://www.getty.edu/art/gettyguide/videoDetails?segid=373.